At one of the adoption events my nonprofit, a volunteer became upset when someone declined a dog we had for adoption because "he called my dog ugly!"
I looked at her, and she was indeed offended — as if it was really about her dog. That was the moment I decided that every dog needs a designated person who would be his "ambassador" and be his voice, protector, caretaker, etc.
Dogs actually thrive when they have their own person watching over them. Dogs are sentient animals, and they know when there's someone who passionately cares about them and makes them a priority.
It's also more efficient having ambassadors keep track of each dog's medical history: "When did Cody get his flea medication?" "When is Chelsea's second deworming?" If it weren't for the ambassadors, someone would have to keep track of every little detail of each dog, and it gets overwhelming if you do not have any paid staff and when you have many dogs in your care, especially when the dogs are not all in one place but in multiple locations at different kennels, cagefree facilities, veterinary hospitals and foster homes.
Our ambassador system is particularly helpful for the dogs in boarding because their ambassadors will look after them and make sure that they get their daily walks. If the ambassadors themselves cannot take their dogs out, they will ask other volunteers who are available to walk and socialize the dogs.
It takes a village to rescue dogs if you want to do it the right way, and nobody can do it alone — I certainly wouldn't have been able to save the 1,100 dogs Forte has rescued to date, all by myself. Some dogs, who have gone through a lot before we took them under our wing, require more care and need someone to make them feel "special" to help them learn bonding and trusting people again. So, the more volunteers that become ambassadors, the more dogs we can rescue, socialize and place in their permanent homes.
Taking a role as their spokespeople or agents, our ambassadors are in charge of their dogs throughout the entire adoption process without financial responsibilities. At the end of the process with each dog, they receive the rewarding experience of placing their dog into a forever home. Our adopters often stay in touch with their dogs' original ambassadors, and the precious reward can last for many years.
If you are interested in volunteering and becoming an ambassador, contact Forte Animal Rescue at 310-362-0321 or on its website, http://www.FARescue.org.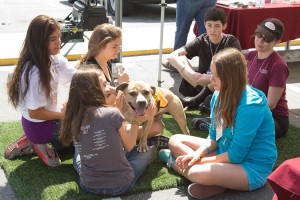 ---
Marie Atake is Founder & President of Forte Animal Rescue and a former Commissioner on the Board of L.A. Animal Services.