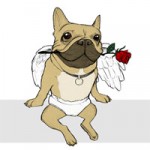 Bring a Friend, Not a Date – August 10, 2016 6PM to 10PM
You have been invited to Forte Animal Rescue's first single's mixer! You can help save lives while potentially meeting the love of your life!
Each participant will Bring A Friend, Not a Date. You will bring a member of the opposite sex who is single and "looking." This way, the male to female ratio is even! If you are a "wingman" (a non-single person who wants to have fun with us), you must accompany a "pair," and your entry fee is $10. You will be labeled as a "wingman" so you don't get hit on – too much.
Get there early so you can get some great happy hour deals! $5 Passionfruit Akvavit – All Night Long!! Just for our participants!
Wednesday, August 10th from 6PM to 10PM
Gravlax
12400 W. Washington Blvd
Los Angeles, CA 90066
Tickets are $20 per pair online, or $25 @ the door. First 10 purchases will receive a special gift!