One of the supporters of my charity, , emailed me: his beloved German Shepherd passed, and he and his wife wanted to adopt one in honor of her passing, rather than buying a puppy from a breeder. I was delighted about their decision to adopt, but the criteria was not easy to meet. They wanted a female, purebred, under a year old, black and tan, but the tan had to be reddish; plus the dog had to have a sweet nature.
Our volunteers and I got to work and started searching for a dog that would fulfill all the requirements. I also sent out a mass email to my fellow rescuers, but none fit the bill. It was becoming a full-time job, but I also had my day job and the rescue's daily tasks to tend to, so I almost gave up.
I then received a text from one of our volunteers who was at the pound picking up a dog our rescue group was saving. He told me that there were two purebred German Shepherds being dumped by someone who appeared to be a breeder, and one of them matched the criteria. They were named Koda and Cocoa. They were from the same litter and 7 months old. We speculated that they had grown too large before the breeder could sell them, hence dumping them in the pound.
While Koda completely fit the bill, there was no guarantee that our supporter would agree to adopt this particular German Shepherd, but I was confident we'd find a good home for her even if it wasn't their home. Wait, what would we do with Cocoa? She's blonde and looks more like a Belgian Malinois. Not even close to matching the criteria. But there was no way that I would take one and leave her sister in the pound.
We rescued them both.
Luckily, both Koda and Cocoa had great personalities. Over the following weekend, I placed Koda in her new home. Though I had a good idea about her demeanor, not knowing much about her, I had no idea how she would behave in a home environment, as the breeder said they were left in the back yard. I held my breath to hear an update. They told me the next day what a wonderful dog Koda was, and she now carries their late dog's name, Sammie.
As I could not bear the thought of boarding Cocoa in a kennel, especially now being alone, I begged one of our volunteers to foster her. She was not ready to foster a dog at that moment, but sharing my compassion for Cocoa, she took her home. She reported that Cocoa was miserable, missing her sister. It became clear to us that she was dependent on Sammie, so the transition was harder on her, while Sammie already started blossoming in her new home.
Almost a month later, Cocoa was adopted by a woman, who happened to live only a mile away from Sammie's home. We introduced the adopters, and they had a few play dates, which made the sisters and everybody happy. We place our dogs all over Southern California, so this proximity was such a fluke.
Then, Cocoa's adopter contacted us a couple of weeks later, telling us that she had to give her up because she seemed to be having allergic reactions to Cocoa. We did not think Sammie's family was up for having two large dogs, but we still asked. They told us to bring Cocoa to them, in a heartbeat.
The sisters were reunited … and for good.
A chain of events led them to have this happy beginning of a new chapter in their lives. What if I received the email asking for a German Shepherd a day later? What if we were saving a dog from another pound? — The volunteer wouldn't have been there to text me. What if Cocoa's adopter lived somewhere far away? They may never have seen each other again.
Searching for a particular dog is not something we normally do, but I'm glad our supporter made this special request because while there was a chance for Sammie and Cocoa to get out of the pound alive, there was also a larger chance that both would have been killed. When we rescued them, we were not in a position to take in an additional dog, let alone two large dogs, as we were at beyond our capacity. I took a chance on Koda, and Cocoa's plight simply touched my heart. We did not even know they existed.
Every time I encounter such whims of fate, it gives me chills through my spine wondering about all the "what if" scenarios. It's a scary and beautiful feeling at the same time. When I visit with Sammie and Cocoa, it continues to remind me that I'm just a tool of the universe moved by its energy. What's meant to be seems to always prevail, for better or for worse, no matter how hard we try to do all the good. And perhaps that's why we, rescuers fight harder for the animals, with the hope to shift the energy by even one degree, so that there will be more dogs like Sammie and Cocoa who can blossom in this world and in return make their adopters' lives that much happier.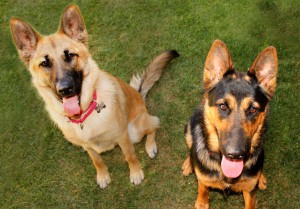 ---
Marie Atake is Founder & President of Forte Animal Rescue and a former Commissioner on the Board of L.A. Animal Services.