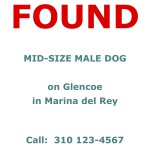 Found dog protocol
May 11, 2010
When you find a dog on the street, and the dog clearly looks neglected or homeless, what should you do?
If the dog is not wearing a collar with a tag (note:  sometimes contact info is written on the collar), take him/her to a veterinarian's facility to scan for a microchip.  Most veterinarians should have a scanner and do this at no charge.
Post flyers as well as Internet and newspaper ads without details of the dog, especially photos.  There are people called "B-Dealers" who may respond to your ads pretending they're the owners/guardians of the dog, then sell the dog to pharmaceutical testing labs.  Especially in a big city like Los Angeles, this is certainly a concern.
On the flyer or Internet/newspaper ads, you should only mention "Found Dog," location, date and time of discovery.  When people contact you, you have them submit proof of ownership, such as photos and vet records.
Look for "Lost Dog" flyers and check the craigslist and newspaper ads.  If the dog belonged to responsible guardians, they should be looking for their dog.
Even if the dog looks neglected and you wish the dog's owner would not be found, by law, you have to fill out a lost animal form at your local animal control, while you foster the animal.  Here is one problem with this plan, however:  The code is written poorly and says that if the General Manager of animal control wants to force you to turn over the animal, the GM (or his/her rep) can do that.  There is no requirement that the demand be for good cause or anything.  Simply if the GM demands just because he feels like it, then you have to turn over the animal, even if you promptly provide all required particulars of the found animal as well as your complete contact information.
Because the code allows this demand to be made for no good reason, you may hesitate to follow the protocol, but this is the legal procedure.  Nonetheless, when you fill out the form at animal control, you do not have to bring the dog with you.  Both Los Angeles county and city impound facilities are full, so good managers would most likely let you foster the animal while waiting for the dog's guardian (hopefully not just an "owner") to possibly show up.
Here is the Municipal Code Section that explains the requirements:
SEC. 53.09.  STRAY ANIMALS. NOTICE REQUIRED.
(a)     (Amended by Ord. No. 133,983, Eff. 4/10/67.)  Any person finding at any time any stray domestic animal or any such animal found running at large contrary to the provisions of this article may take up such animal; provided, however, that persons taking up such animal shall, within four hours thereafter, or within two hours thereafter if such animal is attached or hitched to a vehicle, give notice to the Department or to some police officer, of the fact that he has such animal in his possession, and shall furnish thereto a description of such animal and a statement of the place where he found and where he has confined the animal.
In case such notice is given to any police officer, such officer shall immediately notify the Department and shall furnish all the information which has been obtained regarding such animal.
If the taking up of such animal occurs at a time when the Public Pound is not open for the transaction of business, the notice required herein shall be made to the Department within the time herein required after such pound is again open for business.
(b)     Any person taking up any such stray animal found running at large or contrary to the provisions of this article shall surrender such animal to the General Manager of the Department or his duly authorized representative upon demand thereof.
(c)     No person taking up any animal shall fail or neglect to give notice thereof as required by this section or fail or refuse to surrender such animal to the General Manager or his duly authorized representative upon demand therefore.
---
Marie Atake is Founder & President of Forte Animal Rescue and a former Commissioner on the Board of L.A. Animal Services.