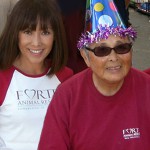 A tribute to Jean Burke
February 15, 2014
If you have been involved in animal rescue in Los Angeles over the past decades, you must have encountered one of the most selfless rescuers, Jean Burke.  She was well respected by the rescue community, and an inspiration to those who crossed her path.
Jean was all about animals and never looked the other way whenever there was an animal in need. She had such genuine compassion for animals, gentle tenacity and even forgiveness for people who abandoned animals on her.
Unfortunately, she had a stroke last week, and passed away on Monday night at 86 years and 4 months of age.
Jean was a catalyst for my own rescue endeavor as well.
::
I was five years old, maybe 4, when my mother was driving us to visit my grandfather in the hospital on a weekly basis. We had to drive over and through a canyon to get to the other side of the hills, outside Tokyo. In the canyon, there was a property where an old woman lived with a bunch of dogs. My mother called her "Doggie Granny." She rescued stray dogs and took care of them. This was in Japan, in the late '60s, where no concept of animal rescue existed.
My mother, as an animal lover herself, always pointed out her property every time we drove by there. I think I saw her and her pack once in the distance when they were walking along the side of the canyon road, like a mama duck and her chicks. Every time we drove by her property, I felt something warm and fuzzy in my heart. "This is where the Doggie Granny and her dogs live."
My grandfather eventually died and our canyon trips ceased. Many a year passed, and I no longer had a chance to consciously think about the Doggie Granny.
I cannot recall if I was in high school or in college, but I do recall seeing a tiny column in a newspaper when I still lived in Japan. It reported that the Doggie Granny had died, all her dogs were confiscated by the pound, and they were all destroyed (or to that effect). I felt guilty and numb. I did not know how else to feel, but the same feeling remained in my heart for the next three decades though subconsciously.
::
I met Jean, probably in early 2001. I was casually volunteering with a few rescue groups back then. Jean belonged to one of them, so I saw her on a regular basis. After a couple of years, this organization, however, was acquired by a foundation run by a movie star, which also ended up fading away.
In the meantime, a group of people who were left behind from this failed merger started another group, and that group eventually became today's Forte Animal Rescue. One day in 2003, I heard through the grapevine, that Jean was in trouble because she no longer had a rescue group helping her. I went to Centinela Feed where she was holding her own adoptions (the same pet store where we hold ours today), and there she was, with a beach parasol and a few dogs in beat-up crates.
Jean said that the pet store was requiring her to have liability insurance, which she could not obtain without filing a nonprofit corporation. She was sitting by a portable table, on which I saw a book that said "how to start a 501(c)(3) nonprofit organization" on its cover.
Jean used to tell me how she got dragged into the world of rescue. "After my husband passed away, I had no more excuse not to foster dogs if someone asked me to." That was twenty some years ago at that point already. She lived a simple life and did not have a computer. This elderly widow was taking care of abandoned animals, and people took advantage of her by dumping unwanted animals on her. Yet, when she needed help, nobody was there to return the favor.
I knew I had to help her. I obtained the required insurance, so that Jean could continue her adoptions. Jean held my hands and said, "Oh, my Gosh, an angel has landed in front of me."
::
Originally, my view of Forte Animal Rescue was to serve as a hub for other groups and independent rescuers via virtual media and conduct other educational activities. As I knew how much work it would take to hold weekend adoption events, it was never included in my plan. Even before Forte Animal Rescue was established, I was already very busy between my work and volunteering merely with photos and web posting, so there really was not enough room on my plate to run an organization with hands-on responsibilities. Not to mention the costs of housing and taking care of the orphaned dogs.
This is why I often joke that I was "framed" to run the group that is now so involved in hands-on rescue and adoptions. When I told Jean that she could run the adoptions under Forte's banner, my personal role was to provide her with the 501(c)(3) umbrella and liability insurance, and stop by to photograph animals and post them on the Internet as needed. But I could not sit back and watch old Jean schlepping crates and stuff all by herself. Consequently, I got involved in this end of animal welfare, and it took its own life—when one dog got adopted, two dogs came in, and the number of volunteers grew by the week.
::
From the moment I met Jean, I was reminded of the Doggie Granny. Every time I saved dogs with Jean, I was saving the dogs I could not save—the dogs who were confiscated from Doggie Granny and destroyed by animal control in Japan.
When I visited her in the ICU last Saturday, I was not sure if I would see her again, but she will eternally live in my heart and so many animals' spirits whose lives would have been perished if it weren't for her. In fact, one of my dogs, Pollyanna was her rescue from the streets in South LA.
I can still hear her voice and will miss her sweet laughter. Jean truly had a heart of gold, like nobody else.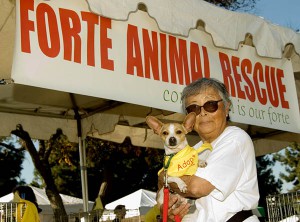 ---
Marie Atake is Founder & President of Forte Animal Rescue and a former Commissioner on the Board of L.A. Animal Services.