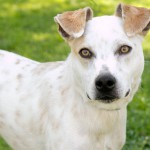 Dog abandoned in freezing rain
April 8, 2015
On March 2, a one-year-old Pointer mix, was left tied to a light post with a handwritten note, "My name is Joey. I am looking for a home. Please take care of me!" A good Samaritan, Lisa Snyder, who is also homeless herself, found him drenched in rain, in San Pedro where temperatures dipped into the 40s overnight that week.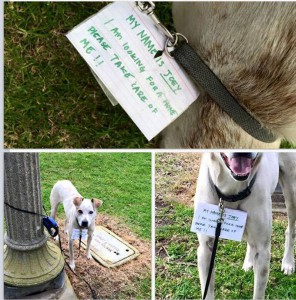 Snyder asked many people to take Joey, but to no avail. Thinking he'd freeze to death, she could not leave him there. "So, I got to thinking, 'If I had left him out here with all that wind coming off the bluff and all that pouring rain and no shelter over there at all, he would have ended up sick, maybe dead,' " she said.
CBS news reported that Snyder, who walks with a cane, decided to make a three-mile trek to the closest animal control shelter, stopping only to get out of the rain.
Joey went up for adoption on March 13 after animal control sent a letter to his owner, who was registered on Joey's microchip, giving him 10 days to claim him.
Being featured on TV and with more than 2,000 people sharing his story on Facebook, everybody thought he would be adopted out of the pound. But surprisingly, nobody showed any interest in adopting him.
A volunteer animal rescuer who is also a friend of the CBS newscaster, leaned about his plight and urged Forte Animal Rescue to take Joey under its custody, which the organization did.
When Snyder first found him, "He was scared. He was snapping. And growling. And trying to get away from people. He was just scared," she said. But after the volunteer took him in her foster care, she stated, "Joey is a social, happy puppy! He loves to chew on bones, play with balls, toys, other dogs and people!! He was a little nervous at first but warmed up quickly. He loves to cuddle and participate, however, if I'm in the kitchen he's happy knowing where I am and content relaxing on the couch. He adapted quickly to potty-training. He's genuinely a happy boy! I don't think he was a true family member as he does not know basic commands."
Over the past few weeks, Joey has learned some basic commands and making progress on leash-training. At Forte's adoption events, its junior volunteers have been working on his agility training, and they have reported how quickly he picks up.
::
Since the article was published, Joey has been adopted.  He now lives with his new family happily ever after.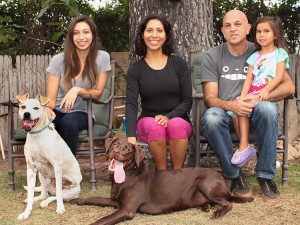 ---
Marie Atake is Founder & President of Forte Animal Rescue and a former Commissioner on the Board of L.A. Animal Services.