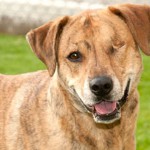 Myth of Rescue
December 15, 2011
I run an animal rescue group, and people often call me the owner of the organization or refer to the rescue group as a business.
But I do not "own the business" because 1) this is not a business and 2) no one can own an entity that is registered as a 501(c)(3) California nonprofit organization.  It is a public charity with a governing Board of Directors, and not "owned" by any one person.
No matter how many times I explain to people that my organization consists of 100% volunteers and does not make a profit, they still ask if this is my full-time job.  Well, it sometimes feels like it, but a "job" should pay me, not the other way around.
When I say I'm a volunteer, that means I'm not being paid, and this is not my job.  I have a day job; the rescue is my charity endeavor and passion.
Being the head of a small, grassroots rescue group with no financial benefactor is the farthest from being a business owner.  I consider myself a grunt worker.  But I don't mind being in the trenches in order to save hundreds of precious lives.
There's nothing glorious or glamorous about running a rescue organization.  We shoulder all responsibilities and receive only bills.
People say that my life is like being an ER doctor, but even ER doctors have days off (and they get paid).  I have no day off — even when I plan to take a day off, someone ends up calling me about urgent incidents, and I have to get back to work.
I drive a 20-year old car, which is a solid indicator of where my priorities lie and where my money has gone, but I still keep hearing the same questions and comments:
"Is your rescue work lucrative?"
"What do you do with your spare time?"
"Enjoy your weekend!"
None of these is applicable to me.
Every time I think about the possibility of curtailing or ceasing my rescue work, which is a heartbreaking, tortuous ongoing responsibility, there is another dog who would die if I was not there.  And when these abandoned, often neglected and abused dogs come out of their shells and blossom, and deliver such incredible joy and love to their adoptive families, I see that there's no finish line until there are no more abandoned animals being killed in the pounds.
Running a bona fide rescue group is a hard life to live, and I question why anyone would want to create a new group when they have the option to join an existing group with no personal responsibility for paying boarding, medical or other bills to care for the animals.  Is it because they believe in a version of the myth that rescue groups are profit centers and the work is a pleasure?  Or are they naively thinking that their group will be so unique that it will make a difference that no one else can accomplish?
Whatever the reasons, and myth or not, "someone" has to be there for the animals, who are at the bottom of society's priority list—especially the mutts.  And that's the bottom line: once you become truly aware of the dire need of help for the animals, you cannot turn your back on them.
Well, you "can" walk away, and that's when you make a choice, and that must be what people cannot understand: what kind of idiots would sacrifice their lives to care about "just a dog"?  Hence the myth—there must be something to gain because nobody does anything unless they get paid for it.
I just received a forwarded email from someone who adopted one of our dogs (a Pit Bull) 7 year ago, and here's an excerpt from it:
The other day I found an article written by Marie Atake 'Your Aging Dog.'  Ironically, in 2004 I adopted Lucy from Forte Animal Rescue.  At that time, my husband and I were determined to give an older dog a chance.  We immediately fell in love with Lucy. We have never regretted the decision of bringing Lucy into our lives.  She is now at least 11 years old (we think).
Going up and down stairs is challenging.  She requires an occasional boost from whoever accompanies her.  Glaucoma and hearing loss is now part of our lives.  We've have learned extensively about homeopathic and medical remedies.  Our late evenings out involve an extra walk prior and when we come back home from being out.  Her food requires a little warm water.  She requires a little blanket over her body because her body does not modulate heat like once before.  We went from no pills to two pills and frequent vet visits.  We would never compromise her quality of life although as you can see from the photo she is still very youthful despite her age and we will not have to visit this decision for some time.
The joy that she continues to give us is priceless and we thank you for giving us Lucy!
Letters like this are my "reward."  The joy of hearing how much our former orphans are loved and well cared for is priceless, and it keeps me and others continuing our efforts in rescuing abandoned animals, with no thought of personal gain.
And if you get it, then you now have a possible explanation for the "myth."
---
Marie Atake is Founder & President of Forte Animal Rescue and a former Commissioner on the Board of L.A. Animal Services.