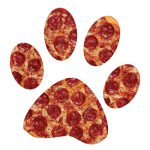 Pizza for Pooches – April 12, 2017
Spring is here, so to celebrate, we are getting pizza! Fresh Brothers in Marina del Rey is hosting a fundraiser for Forte Animal Rescue on Wednesday, April 12th. They are going to donate 20% of all sales directly to Forte! That means that the more people come out, the more we can raise. The fundraiser will run from 11 am – 9 pm. You can either go on your own, or meet up with us at around 7 pm!
IMPORTANT: Please tell them that you are there for Forte, otherwise your purchase will not count!
What: Forte Animal Rescue Fundraiser at Fresh Brothers Marina del Rey
When: Wednesday, April 12th, 11 am – 9 pm
Where: Fresh Brothers Pizza, 4722 Admiralty Way, Marina del Rey, CA 90292
How: By mentioning "Forte" to the server