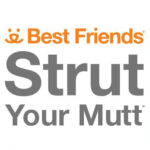 Strut Your Mutt – Saturday October 22, 2022
This year is Forte Animal Rescue's 20th anniversary. Join us in celebration by strutting with us!
October 22, 2022 from 9AM to 11AM
LOCATION:
Warner Center Park
5800 Topanga Canyon Blvd
Woodland Hills, CA 91367
This annual charity walk was halted since 2020 due to the lockdown, and we are so excited to bring back together four- and two-legged participants of all ages to raise funds toward saving the lives of abandoned animals.
If you're joining our team, sign up with a high goal, and ask your friends, family, coworkers, neighbors and everybody to support you! It works like Avon Walk, but there's no penalty if you don't reach your goal, so set your goal higher than you think you can achieve. (If you cannot make it on the day of the event, there's no penalty, and the funds you'll raise will still go to Forte.)
If you can't join us in person, please tap the Donate button and help us in our continuing efforts to rescue and place dogs in their forever homes, bring joy to people, and support the community through our various programs.
Your donation is tax deductible and Forte will keep 100 percent of the raised funds after transaction fees. Because Forte is 100% volunteer-run with no paid staff or fancy facility, every dime we'll raise will directly make the difference for animals.