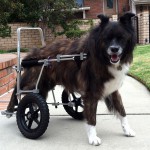 Pet loss: Facebook substitutes for support group
September 24, 2013
We love our dogs like our children, but very few become our soulmate.
For a variety of reasons, his death was a very difficult one for me, and even a year later, it still is.
When a very close friend lost his battle against cancer several years ago, I went to attend a support group meeting, but I ended up assuming the supportive role and I carried home an even heavier weight of grief. When Valentino died, I could not imagine doing that again, and I slipped into a deep sea of sadness and despair. Alone.
I sent a pre-prepared email to those who helped me care for Valentino (He weighed more than 80% of my body weight, and I needed their help to get him in and out of his wheels to take him out):
Dear Valentino's Angels,
I am writing this email to you prior to his passing because I know that I will not be able to compose myself to sit in front of the computer to properly thank you for all you have done for my soulmate. I am blessed to have all of you. … It really took a village to care for Valentino, and he was indeed the most blessed dog.
As I type this email, I still cannot imagine life without him at this late stage of his illness. By the time you will be reading this email, he'll be gone, and I hope to find strength to get on with life.
Thank you so much for all your support and compassion. Without you, I wouldn't have been able to give him the level of care he received.
I knew I wouldn't be able to write or even think about writing immediately after his death, but I had to let these kind people know that their help was no longer needed and wanted to thank them for their selfless support. But other than hitting the "send" button, I could not make an official announcement to the rest of my friends or those who adored Valentino.
Nonetheless, within a few days following his passing, a friend posted a condolence note on my Facebook timeline. As I could not even write about his passing to my friends, let alone posting on Facebook, many people learned about his death from such random condolence posts on my timeline.
People gave me empathy and love without expectation of anything in return. Some shared their sorrow of losing their soulmate, too. Their kind words, inspiring poems, supportive posts of links and pictures, and responding to them allowed me to step out of the isolation. These people, many of whom I've never met, poured their kindness and compassion upon my shattered heart.
It helped me immensely. To me, much better than a support group because I could read their posts at my pace, without a pressure of producing a reaction. I was able to slowly digest each message in serenity.
From these exchanges, I've even developed beautiful friendships with some of them. Who knew a social medium like Facebook can be the very place to offer this level of healing support. Behind the cold screen of technology, there are many warm hearts sincerely care about others, and they certainly touched my heart.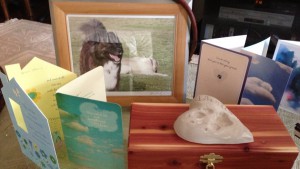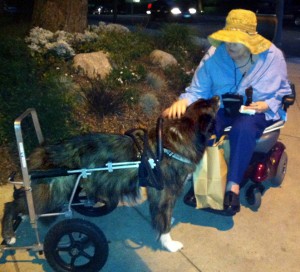 ---
Marie Atake is Founder & President of Forte Animal Rescue and a former Commissioner on the Board of L.A. Animal Services.