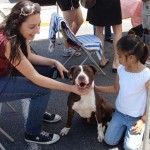 Being a dog-rescue volunteer
May 30, 2010
Dog rescue is not a glorious endeavor by any means. Some may think volunteering for a rescue group is about playing with puppies on a weekend when they have nothing better to do. Here's what it is like to be part of a rescue group:
There are so many layers of involvement, but the entry level is weekend adoption events. Typically, you show up every weekend at a pet store in whose parking lot the group holds the adoptions (or some other temporary location if the group doesn't have a facility). You're killing your back to set up the tents, crates and all the other equipment.
Say, your favorite dog is Rusty, who's categorized by society as big, ugly and not a spring chicken. He's somewhat shy and needs to get socialized and undo the uptightness, so that he can make a good companion for someone. You walk him a few blocks, brush him and help him relax. You do this for other dogs too, talk to people, answer more questions, and at the end of the afternoon, you clean up and tear down the show, again, breaking your back.
You go home covered with slobber and muddy paw prints all over you, feeling somewhat sad thinking about Rusty sitting in a kennel cage while you lay on your bed. You hope you can get off work earlier one day this week to get him out of boarding for a few hours.
Monday comes, and you go back to work. Your fellow workers tell you what a great weekend they spent on the beach. They look at you for your report, and you tell them you were hanging out with mutts in a parking lot.
One evening, someone calls you on your cell phone. You wonder, "Who gave them my number???" This is the third time this week people have called you when they've found a dog on the street because they think it's your "job" to help them. No, it's not your job, you don't get paid, but you'd still help them anyway.
Then one day, Rusty's forever home is found! That's one of the most joyous moments! You take Rusty to his new home, and conduct the final "home-safety check." You hug him and kiss him goodbye. You drive home with bittersweet tears in your eyes; you are happy for him, but you already miss him.
A couple of years pass by, and you walk into a doggie park. A dog runs up to you with a huge smile on his face. It's Rusty! He licks you to tell you how happy he is with his new family and thanks you for all you had done for him, saving his life and giving him a second chance.
At this very moment, you got a reward that no money can buy.
---
Marie Atake is Founder & President of Forte Animal Rescue and a former Commissioner on the Board of L.A. Animal Services.