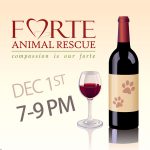 Wine Tasting Event – December 1, 2016
Forte Animal Rescue's Exclusive Wine Tasting Event
Brought to you by viaONEHOPE, with 15% of all purchases going to Forte.
WHEN: Thursday, Dec 1st, 7-9 PM
WHERE:
Esprit Marina del Rey
13900 Marquesas Way
Marina del Rey, CA 90292
Tickets at the door for a suggested donation of $10. Includes 6 tastes plus one full glass of your preference. Underground guest parking available, in green spots only. Fundraising venue is the 'Theater', accessible through the garage. Follow the balloons. Venue provided courtesy of Kelly Jones at Real Estate Alliance.