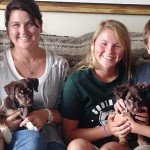 Bandit and Maverick Adopted!
February 9, 2014
Standing patiently on the curb, they felt it was time to adopt a rescue. The Fitzpatrick's spoke to their children about only adopting one before they attended Forte's adoptions. When they met the puppies they couldn't pick and knew everything was out the door with the "only adopting one" policy.
Dewie now known as Bandit, and Dude now known as Maverick, have a beautiful forever home. Bandit and Maverick were so excited to be in a home filled love, kids, a huge yard and each other!!