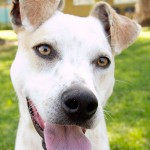 Joey Adopted!
June 17, 2015
You may be familiar with Joey.  A few months ago, he was left scared and abandoned, tied to a post with a small sign tied around his neck: "My name is Joey.  I am looking for a home.  Please take care of me!!".  Fortunately, someone soon found him and walked him 3 miles to the nearest shelter, and he finally ended up with Forte.  And we found him a home!  Oralia and her family came to Forte with some very specific needs.  They wanted a dog energetic enough to play with their puppy lab, Molly, but also calm enough to be gentle with their children.  And Joey was perfect.  He and Molly were instantly running around and playing.  And when the kids came over, he was a gentleman and gave them gentle kisses.  It is the perfect match, and as Oralia said, who 
got frustrated in the last few months because she couldn't find another dog for their family: "N
ow that Joey is home I understand why it took so long. He was worth waiting for.