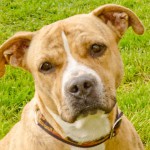 Karma Adopted!
September 15, 2014
Karma came to us originally as an outreach. She was in a boarding setting and it wasn't until two of our former fosters came forward to pull her out and care for her that we knew she was extremely ill.
With meds and all of the time and love that Jaclyn /Brett spent nursing her back to health, Karma bounced back — but not before we experienced many real scares with her health. These scares started to happen much more often than not, the poor pup didn't seem to be able to catch a break! Karma then started to have seizures and was diagnosed with epilepsy, but this didn't deter Brett and Jaclyn from continuing to shower her with TLC. This is truly why she pulled through so many health issues. Her fosters were her angels. They researched relentlessly, started a Karma blog, applied for grants for training, helped her get over her fear of strangers (amongst many other factors), and diligently spent Saturday after Saturday sitting with her at the Forte adoption events.
After fostering Karma for about 18 months, Brett and Jaclyn decided that she was now part of their family, and decided to move forward with an official adoption. Everyone at Forte could not have been happier!
We are so blessed that Jaclyn and Brett dedicated themselves to Karma, as they truly saved her life over and over and now provide the most perfect home possible for her, forever!